From Foldable E-bicycles To Premium Non-Alcoholic Beverages!
9 months ago
Rituka M
Hornback Emobility & Malaki crack deals with the Sharks, whereas sharks suggest Nanoclean's nanofiber technology to build another use-case!
Shark Anupam goes as far as to call Zoe's offerings 'a sin'
Modern working professionals suffer from various lifestyle disorders and need a quick fix. Opting for detoxes, they find a temporary solution. Zoe is a dynamic and fast-growing startup based in Gurgaon, India that has made waves in the health and wellness industry. Founded by Karan & Tanya, Zoe aims to provide affordable and personalized nutrition plans to customers through its innovative online platform. The company's unique approach uses state-of-the-art technology to create individualized meal plans based on a customer's specific requirements and preferences.
In addition, Zoe offers a range of high-quality supplements, detox packages, and superfoods designed to support overall health and wellness. Moreover, they also have a feature where the users can receive personalized health advice, and connect with doctors and nutritionists virtually. With its commitment to quality and innovation, Zoe has quickly become a leader in the Indian health and wellness market and continues to attract a growing customer base. With its focus on personalized nutrition and cutting-edge technology, Zoe will make a lasting impact on India's health and wellness industry and beyond.
Having been in business for over 6 years, they have uplifted the lives of over 1.4L customers. They have Rs. 43cr in lifetime sales and are at 10L YTD. Asking for an investment of Rs. 75L for 5% equity @ a 15cr valuation, Zoe pitches their product to the Sharks. However, they do not receive any deals. Moreover, Shark Anupam Mittal calls the product 'a sin' and says that the founders lack the requisite knowledge. Stating that the product lacked depth and made claims without any significant backing, the sharks opted out of investing.

Hornback Emobility's Foldable E-Bicycle
Hornback eMobility is a young and dynamic Hyderabad-based startup that has been making waves in the electric vehicle industry. Founded in 2022 by Nishith Parikh and Rajkumar Kewat, the company is on a mission to make sustainable transportation accessible and affordable for all. With an impressive range of electric scooters and bikes, Hornback eMobility is setting the benchmark for quality, performance, and innovation. What sets them apart is their commitment to excellence in design and engineering, ensuring that their products are not just eco-friendly but also stylish and practical. Whether you are a daily commuter or an adventure seeker, Hornback eMobility has something for everyone.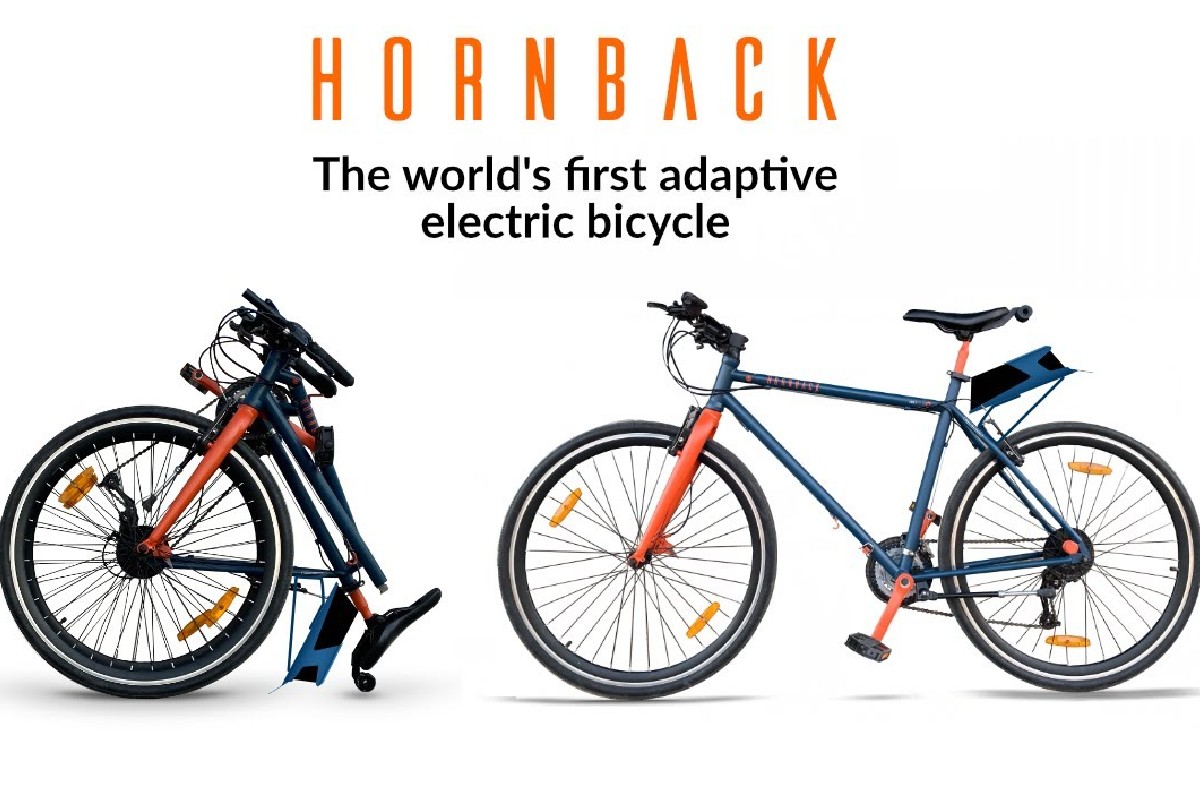 With a team of passionate and skilled professionals driving the company forward, it is no surprise that Hornback eMobility is fast becoming a household name in India's EV industry. Moreover, their patented mechanism aims to allow consumers to enjoy the benefits of riding a bicycle and eliminate the storage problem. Besides, their full-size diamond-framed folding bicycle promotes an economical and sustainable lifestyle. They have 80 bikes in preorders which run on 250W with a range of 45kms, and 4 hours of charging time. Costing Rs. 44,999, they have previously raised funding of 3.33cr @ a 15.33cr valuation.
Hornback Emobility seeks an investment of Rs. 50L for 1% @ a 50cr valuation. Shark Amit offers Rs. 30L for 2% @ a 15cr valuation & remaining 10L in interest-free debt. However, the founders are not keen on taking up debt. Revising his offer, Amit counters Rs. 50L for 2.5% equity @ a 20cr valuation. The founders seal the deal with Shark Amit, and aim to promote and make Electric bicycles an affordable and environmentally friendly option!

Malaki's non-alcoholic beverages entice Sharks Aman & Peyush
Malaki is a premium non-alcoholic startup started by Ashish & Mohit Bhatia based in Mumbai, India, that is changing the way people think about non-alcoholic beverages. The company offers a range of sophisticated and flavorful drinks that are perfect for those who want to enjoy a night out without the effects of alcohol. Moreover, with unique blends of natural ingredients and exotic flavors; Malaki's drinks are perfect for any occasion, whether it be a night out with friends or a formal dinner party. Their beverages are crafted with the finest ingredients, making them both delicious and healthy. Additionally, their drinks come in a variety of flavors, including classics like tonic water and ginger ale; as well as more exotic blends like lavender and grapefruit. Setting Malaki apart is its focus on quality, with each beverage being made from the finest ingredients.
With a commitment to sustainability, Malaki uses eco-friendly packaging and sources ingredients from local farmers. What sets Malaki apart is its dedication to creating a premium non-alcoholic experience that is on par with traditional alcoholic beverages. Focusing on quality and taste, Malaki is quickly becoming a favorite; especially among those who want to enjoy a sophisticated and flavorful non-alcoholic beverage. They are available in 500+ HoReCa's, e-commerce marketplaces, and quick commerce brands such as Swiggy, and Zepto, among others. They have 7cr in FY 21-22 with a projection of 9cr in this FY22-23.
Asking for an investment of Rs. 50L for 1% @ a 50cr valuation, Malaki brothers receive offers from Aman, Peyush, and Anupam. Sharks Aman & Peyush join in on a co-deal and offer 50L for 3% @ a 16.67cr valuation. Although Shark Anupam gives them a better valuation of 20cr, they opt for Sharks Aman & Peyush, and seal the deal! This shows that the entrepreneurs are willing to value the expertise of the right sharks over their company's valuation.

Nanoclean receives advice from Sharks to opt for other use-cases
Nanoclean is an exciting and innovative Indian startup that is transforming the air purification industry with its revolutionary technology. The company offers a range of air purifiers that are not only effective but also affordable and sustainable. What sets Nanoclean apart is its unique use of nanotechnology to capture and eliminate air pollutants, providing a clean and healthy environment for its customers. Using nanotechnology & nanofibers, Nanoclean's patented-wearable technology (NASO95) filters bacteria, viruses, and pollutants preventing several diseases such as asthma and COPD. This startup began in 2017 by Prateek Sharma and has improved the breathing quality of over 2L people. Nanoclean's products are available on the website, in e-commerce marketplaces, and in medical stores. They have a lifetime revenue of 15cr, which has fallen since after Covid with 1.1cr in FY21-22. Asking for an investment of Rs. 80L for 2% @ a 40cr valuation, Nanoclean does not receive any offers.
Comments
comments