T-Hub signs MOU with QETCI to support quantum tech startups
9 months ago
Rituka M
T-Hub has signed a Memorandum of Understanding (MoU) with the Quantum Ecosystems Technology Council of India (QETCI). It is a think tank for quantum technology stakeholders in India.
The Government of India declared quantum technology as a "mission of national importance" in 2019. Since then there has been augmented interest in this field. This has boomed the quantum technology industry in India, with widespread interest and investment by the public and defense industry in core and applied research. Quantum technology works by using the principles of quantum mechanics, including quantum entanglement and quantum superposition. Quantum tech aims to find solutions for large-scale problems. Some of the applications of the technology aim to create solutions for expanding the Internet, AI, Communications, and Memory.
Quantum technology will be ready to develop fault-tolerant quantum products that can be used with high technology by 2026–2027, which will inevitably lead to increased adoption by Indian enterprises. It is estimated that by 2030, Quantum tech will add $310 Bn to the Indian economy.
T-Hub partners with QETCI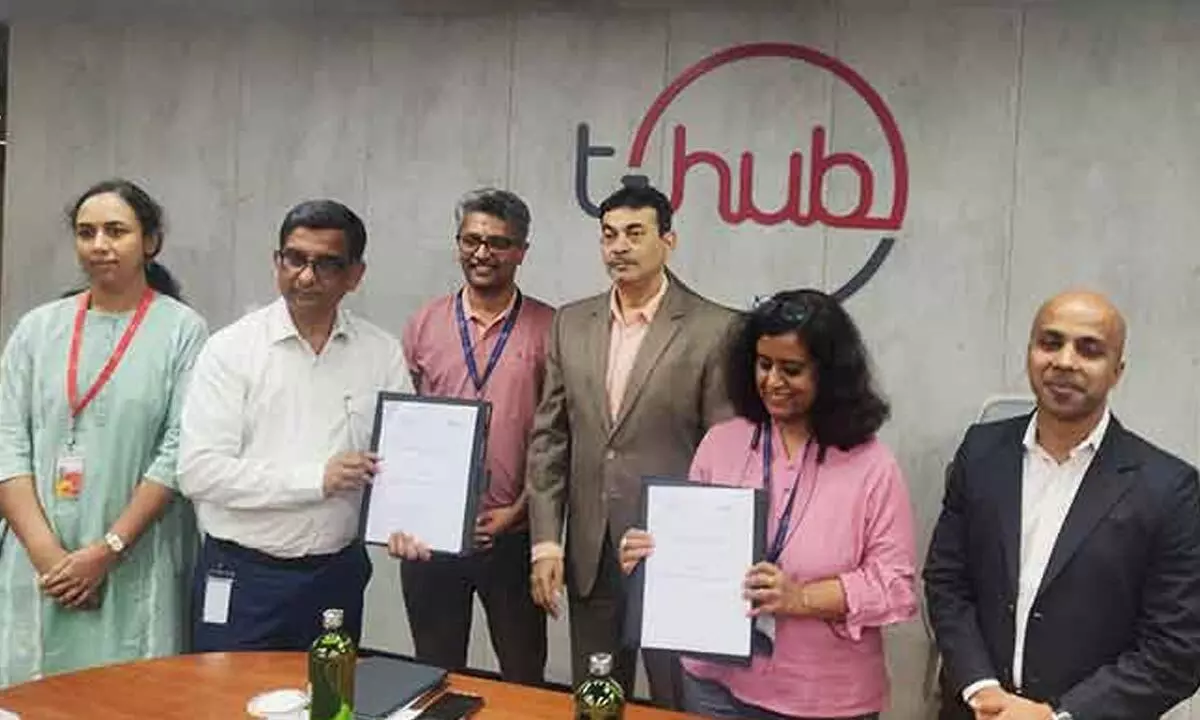 Under this partnership, early-stage and growth-stage startups using Quantum Technologies in India will receive support through a robust innovation ecosystem, mentorship, business opportunities, and market understanding. The MoU was signed in the presence of Jayesh Ranjan, Principal Secretary, ITn, Telangana; Reena Dayal, Chairperson, QETCI and Srinivas Rao Mahankali, CEO of T-Hub. This agreement will be an enabler wherein T-Hub and QETCI will collaborate and develop a supportive ecosystem for startups working on Quantum Technologies.
Jayesh Ranjan said, "This partnership will provide the ecosystem for startups to leverage the opportunities in quantum, and how quantum should also be mainstreamed along with other technologies. We recommend that the startups learn more about T-Hub because this association can make a difference in their careers."
Speaking about the partnership, Reena Dayal, Chairperson, QETCI said, "Our partnership with T-Hub will provide the desired ecosystem for the quantum innovation journey and will accelerate quantum technology development, collaboration, mentoring, and investments. This continued engagement will provide insight to startups, academia, business collaborators, and other stakeholders in the innovation ecosystem as the next-generation technologies, such as Quantum, continue to mature and become commercially viable."
Recently, QETCI conducted a Quantum Science and Technology Hackathon (QSTH) 2022 successfully. The hackathon received 132 project ideas from India and 25 countries in the ideation phase submitted their proposal. About 37 prototypes were submitted and after extreme scrutiny of Code quality, technology, architecture, design, usability, and implementation, 16 were selected for the final round.
Srinivas Mahankali on signing an MOU with QETCI says; "Our team is excited to sign an MOU with a company that is dedicated to the cause of quantum computing. We will use our expertise in equation acceleration with their subject matter expertise in quantum computing to make India one of the world's leading quantum computing players."
Comments
comments